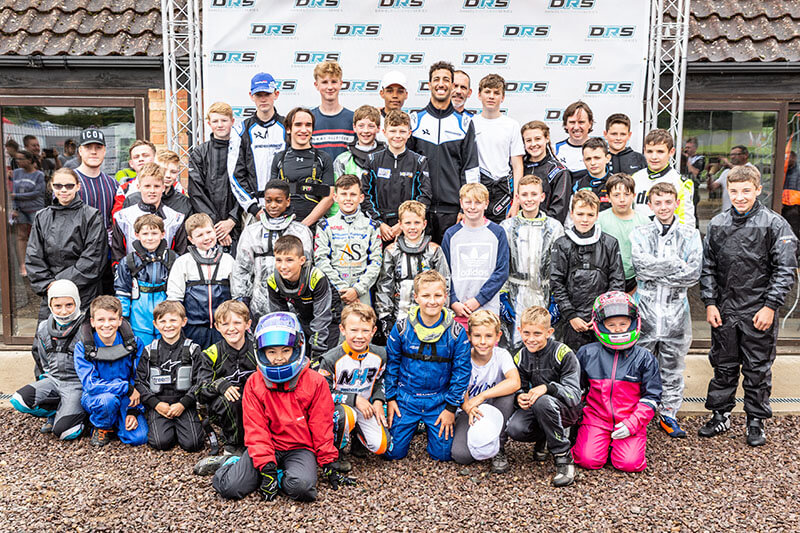 The Daniel Ricciardo Young Driver Academy is run at every round of our race series on a Saturday morning and costs £195.00 per driver and runs in modules over a 2 hour session. We also sometimes arrange exclusive Daniel Ricciardo Academy test days through the season which we promote via the Daniel Ricciardo Series Instagram or face book pages.
At this point young drivers do not have to be registered in the Series to try out the Daniel Ricciardo Young Driver Academy.
We can provide a demo kart for each DRS category which means you can try out without having to purchase a kart to see if you like it!
The Daniel Ricciardo Young Driver Academy uses DRS50 Bambino for 6 year to 8 year olds, or a DRS62 for 8 years to 12 year olds, or a DRS100 for 12 years to 16 year olds, or a DRS125 for ages 15+
You must have your own crash helmet CMR rated for karting , at least a level 2 karting suit, race gloves and boots and a rib protector is recommended. * terms and conditions apply*
It's obligatory that drivers have tried some indoor go karting or outdoor fun go karting before coming to the Daniel Ricciardo Young Driver Academy as the DRS karts are racing karts and are much faster!
With the Daniel Ricciardo Young Driver Academy a positive first driving experience is our primary goal for all our young drivers. The idea is to give our young drivers the confidence to go out and enjoy an outdoor racing circuit in a proper DRS Ricciardo racing kart for the first time.
The sessions start with a classroom safety briefing for our young drivers before moving on track in a car as passengers with an instructor to show the pit lane exit and entrance, racing lines and braking points.
The Daniel Ricciardo Young Driver Academy uses a system of cones around the circuit to signify and guide young drivers on their braking points, as well as cone gated entry points to each corner to teach the racing line and correct corner apexes.
The Daniel Ricciardo Young Driver Academy awards certificates to all young drivers who complete our Academy and is a memorable experience!
After the attending our Academy one of our team will contact you for a follow up and its normal at this point that parents / guardians or yourself ! can decide to purchase very own DRS Ricciardo kart.
The next step is then to register for the Daniel Ricciardo Series which is an exclusive Motorsport UK recognised club.
Once purchased all drivers must complete and pass the Daniel Ricciardo Series Driver evaluation test and Motorsport UK ARKS driving test to obtain their racing licence.
* terms and conditions apply please contact the Daniel Ricciardo Series office 01527 889595 for more information*