Where it all begins…
After indoor go karting for kids aged from 8 years old up to 12 years old, (a 7 year old in the year of their 8th birthday may race DRS62 if they have raced a minimum of 3 DRS Bambino events) up to 12 years old.
The DRS62 is used in the Daniel Ricciardo Young driver academy where young drivers can try out the DRS62 in preparation for mum and dad to purchasing their very own DRS62 Ricciardo kart!
At a starting price of only £3600.00 + VAT complete the 2022 DRS62 Ricciardo cadet kart is fantastic value and is built ready to race just add fuel !
Visit our factory..
On purchasing your DRS62 Ricciardo kart you will be invited to our factory for a seat fitting and a detailed hand over which explains all you need to know about your new DRS62 Ricciardo kart.
The DRS62 is all about a young driver's ability and nothing else. The Ricciardo chassis kart frame and the DRS62 engine and its parts are all controlled by the Daniel Ricciardo Series. This system creates a level playing field on kart and engine performance and delivers a realistic racing budget.
The DRS62 Ricciardo kart is a complete kart with combined serial numbers for kart, engine and electronics. Each kart detail is held on a secure database and can only be registered to one driver for the season. It is not permitted to be raced by anyone else apart from the registered driver in the exclusive Daniel Ricciardo Series.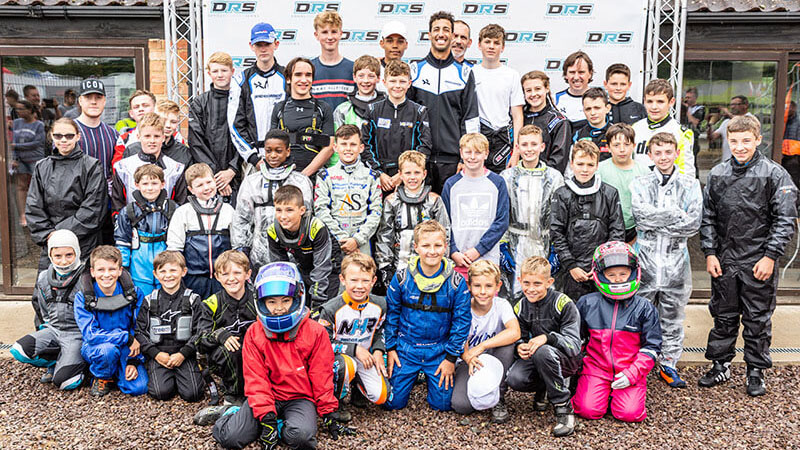 | | |
| --- | --- |
| Age | From 8 years to 12 years old |
| Category weight complete with driver: | 105 KG  (min driver weight 26kgs and min height 1m 25cms) |
| DRS62 model: Ricciardo kart | DRS L28 fitted with Tillett seat as Standard. |
| Ricciardo kart graphics | Fitted as standard 2022 |
| Steering wheel | Ricciardo HQ 320 as standard |
| Bodywork  | 2022 KG MK20 Front Panel/ Pod / Freeline Mini Evo Pods / DRS black rear pod  |
| ChassisTube | ø 28 mm |
| Rear Axle | ø 25mmx960mm |
| Brake System | DRS Hydraulic self adjusting |
| Gearing | Fixed |
| Tyres | Vega ETS |
| Engine | 62 cc 2 stroke IAME EK |
| Power | 7 HP |
| Service schedules | Top end service 25 hours  Full service 50 hours |
| Cooling | Air Cooled |
| Ignition | Electronic TAG – electronic start/stop |
| Carburettor | Tillotson HLfixed jet |
| Combined chassis and engine weight dry | 60KG |
| Oil | Exced EK |
| Clutch | Centrifugal |